back to one of his many favorite
spots
...
catch me if you can....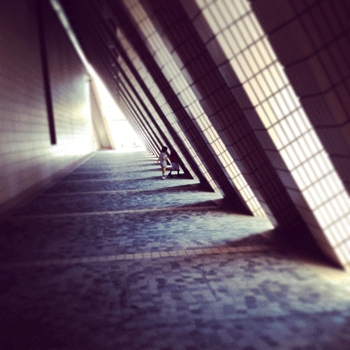 (possibly) the best place for playing hide and seek!
giant lanterns
still around after mid-autumn festival...
though the boys weren't too keen about them...
seeing this huge star fruit lantern,
recalled something funny ...
grandma gave him a star fruit shaped lantern this year
and i guess we all just assumed that he knew what kind of fruit it was...
when we brought it to our mid-autumn festival dinner at his

godmother's

place,
he called it a 瓜 (a melon)
and we all just laughed...
well,
at least he wasn't too far off... in terms of the shape,
it does look like a melon.
the junk boat.... and the kids
and the morning was wrapped up with this must-have for little bb...
he promised us that it wouldn't ruin his appetite for lunch...
and he did keep his promise!
it was rather a spontaneous get-together with my

godchildren
we had some good fun chasing and running along the harbor...
wish we could do this kind of unplanned play date more often.
it looked quite small next to the skycrapers...
a carousel would be more appealing *smile*
wish we could have a proper and pretty one in town..